How does the S2203i purifier work?
The Saturn S2203i uses a system of internal fans to pull the air in your home through a series of filters that remove harmful airborne particles like germs, bacteria, dust & pollen. The S2203i then circulates the purified air back into the room. This process repeats itself several times an hour, keeping your environment a healthy one.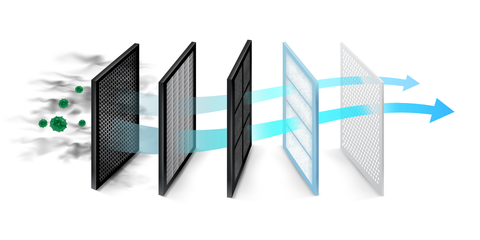 Our in-built anion purification uses electricity to attract any air particles that carry dust, germs, bacteria, pollen, pet dander, bad odours and any other airborne nasties directly to the S2203i to be dealt with.
Once attracted the air moves through the holes at the front of the S2203i and passes through our blended Felt Filter. This removes big particles such as pet dander, hair, fluff & dust.
The antibacterial activated carbon on the S2203i is biosynthesised using natural material and has been improved and modified to work better than most common carbon found in other air purifiers. The S2203i removes bad odours, air & vehicle pollution, formaldehyde, emissions from office equipment, mould, fungus, dust mites and pollen from the air at this stage.
The HEPA filter uses European H13 standard HEPA material, which makes this a true HEPA filter and it catches microparticles easily. The S2203i removes smaller air particles and rids the air of Benzol & Benzenes in this step.
The final filter combines with the UV light in Step 6 to remove up to 99.99% of all airborne bacteria, germs and viruses still present using a process called photocatalysis.
Our UV light is extremely strong, so strong we've had to hide it and put it towards the back of the S2203i so you can't touch it! This zaps away any really harmful germs, bacteria & viruses that still persist, rendering them harmless. The fan at the top of the S2203i then pumps out beautiful, clean, fresh air.